WordPress tutorials the starter guide that allow you to extend the power of WordPress. Step by step WordPress tutorials are easy to understand and follows the WordPress best practices.These WordPress tutorials contain real-life examples, tips, and hacks that allows you to learn WordPress faster, and is a
Great Guide For Beginners.
The Ultimate Guide to Creating a Website With WordPress
You are about to gain a tremendous advantage over most WordPress users when it comes to creating a website.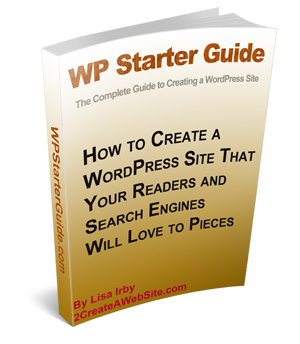 WordPress was originally designed for news-oriented sites, but because of its ease of use and flexibility, people are now using it to create all kinds of websites.
The problem is, most WordPress sites aren't really "news sites", but the average user doesn't know how to effectively use the WordPress Menu function and static pages to create a website with a logical navigation and optimal content layout.
FACT: Not every WordPress site should be organized in a total blog format with only categories and posts. WordPress is not just for blogs.
FACT: Too many users fail to make effective use of static landing pages, causing their important content and visitors to get lost in a sea of dated posts.
FACT: Traditional static website owners shy away from using WordPress because they assume their content can only be organized in reverse chronological order.
FACT: Existing WordPress users struggle to make their menus link to the pages they want.
The WordPress Tutorial is not only the perfect starter guide for anyone new to WordPress, but it will show you how to make the best use of the dynamic and static functionality so your content is organized in the most logical way for your visitors.
If you are intimidated by WordPress, this guide will make learning a breeze!
What Does The Guide Include?
– 125 pages (PDF) of up-to-date information on how to use WordPress to create a website. WordPress Tutorial is a great source for beginners. (Instant download — requires Adobe Acrobat Reader to view)
– Tips on topic/keyword research, SEO (search engine optimization), promotion, plugins, making money, writing content, layout, security and customizing common elements of your blog(header, stylesheet, etc.)
– An entire chapter dedicated to layout that will help you make your WordPress site easier to navigate using static pages and potentially improve your site's search engine optimization
– Instructions for adding/floating social media icons in your header
– Discover how to easily add AdSense ads to your sidebar
– Lots of colorful screenshots for illustration and easy reading
– Help with using the WordPress Menu feature to create drop-down navigation menus in seconds
– Inside tips on what I've done with my newest WordPress site to improve the page views per visitor
– FREE lifetime upgrades! WordPress Tutorial is always being updated, so I will keep the guide up-to-date to reflect major releases and send (email) you a copy.
Who is the WordPress Tutorial For?
WordPress Tutorial is for people who want to learn how to use WordPress (for hosted sites, not the free WordPress.com version)
And existing WordPress users struggling with layout, site navigation, and WordPress basics
Here are some comments from WordPress.org about self hosted WordPress BLOGs.
https://codex.wordpress.org/WordPress_Quick_Start_Guide
Get Set Up
The New To WordPress – Where to Start article accompanies this section, though it contains duplicate information and should be merged with this section.
Advantages of Self-Hosted WordPress Blogs
A self-hosted WordPress blog has a number of advantages over freely hosted blogs. With a self-hosted WordPress blog, you have complete control over your code, so you can implement any theme, modify it entirely, or create your own. You can add any plugin you want, and then hack the code. The application's code is completely open, allowing you total access to modify, tweak, or explore what you want.
There's much in store for the non-professional and non-technical blogger also, whose writing will revolve around casual and professional blogging without bothering about details how the website functions.
WordPress has a large community of enthusiastic bloggers who help each other in forums, create and share themes and plugins, and help move the software forward with new features and better design. With such freedom, what you can do with a WordPress blog can be a bit overwhelming. The WordPress Codex (the wiki manual for WordPress) has hundreds of pages and can be daunting in scope.
The intent of this WordPress Quick Start Guide is to get you up and running with WordPress and give you a brief overview of the most important concepts and techniques. It covers the most common setup tasks you need to technically launch, configure, and manage your blog. It then lays down some concepts for more advanced theme modification.
Note: WordPress.org differs from WordPress.com in a fundamental way. WordPress.org provides WordPress software that you can download and install on the server space you rent from a web host. In contrast, WordPress.com provides free hosting for your WordPress blog, but restricts the themes and plugins you can implement. With WordPress.com, you have to pay extra to modify your stylesheet, and you can't display ads or manipulate any of the code. All the media you store on a WordPress.com blog by uploading is saved on WordPress's servers, so you're not in full control here either. (For more information on the difference, see WordPress.com Versus WordPress.org.) Everything in this guide relates to self-hosted WordPress blogs.